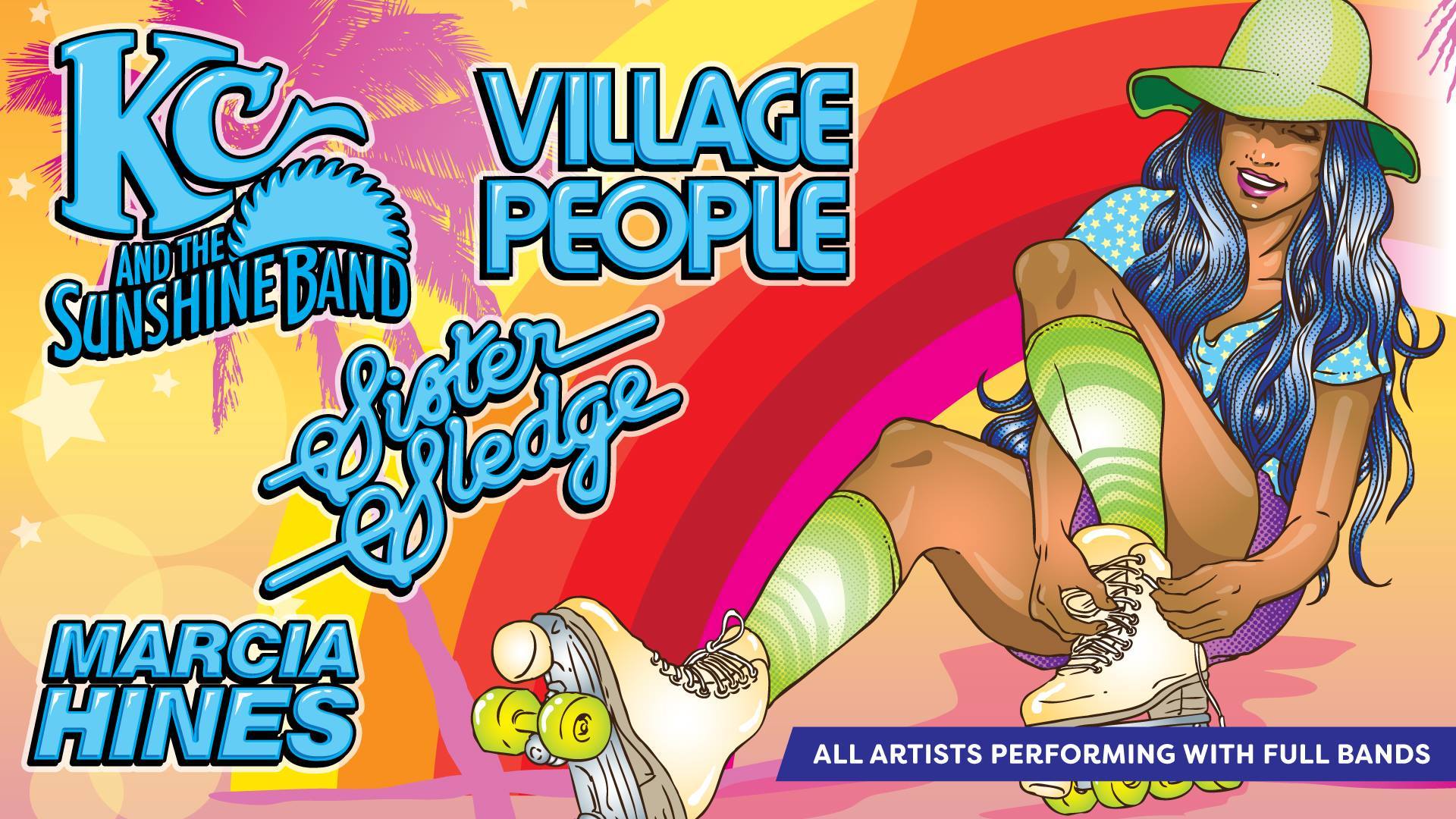 KC and The Sunshine Band, Village People, Sister Sledge and Marcia Hines at Bimbadgen
Get set to put on your boogie shoes and party when disco legends KC & THE SUNSHINE BAND, VILLAGE PEOPLE and SISTER SLEDGE combine for a huge Australian tour this December. Disco fever will hit a day on the green on Saturday 16 December at Bimbadgen at Pokolbin in the Hunter Valley.
Search for Accommodation near Bimbadgen
Get up and shake your booty with the kings of disco, KC & THE SUNSHINE BAND. Formed in Miami, Florida in 1973 by Harry Wayne Casey (KC), the band ruled the charts in the mid-'70s with four number one hits in a row - Get Down Tonight, That's The Way (I Like it), (Shake Shake Shake) Shake Your Booty and I'm Your Boogie Man. 
With irresistible elements of funk, disco and R&B, KC & THE SUNSHINE BAND music has resonated with fans for four decades. The Grammy Award-winners have sold more than 100 million records and were honoured with a star on the prestigious Hollywood Walk of Fame. 
A DAY ON THE GREEN AT BIMBADGEN
Also celebrating 40 years in show business, VILLAGE PEOPLE have sold more than 100 million records and ingrained themselves into pop culture history with some of the biggest hits and most memorable characters of all time, including the Top 10 smash hits on the Australian charts - Can't Stop The Music, Y.M.C.A, In The Navy and Macho Man. 
Search for Accommodation near Bimbadgen
In 1979 SISTER SLEDGE teamed with Chic's Nile Rodgers and Bernard Edwards and released their iconic album We Are Family. The album's first single, He's The Greatest Dancer, shook up dancefloors around the world, while the follow-up title track skyrocketed the group into disco royalty. Known for their electrifying live shows, they have performed on some of the most prestigious stages in the world. 
MARCIA HINES quickly became one of our most-loved stars, crowned Queen of Pop in 1976, 1977 and 1978, and having hits in three decades, with 11 Top 40 entries, including You, From The Inside, I Just Don't Know What To Do With Myself and Music Is My Life. Marcia shows no signs of slowing down, recently starring in the smash hit musical Velvet. 
A Day on the Green Concert at Bimbadgen
Saturday 16 December 2017 at Bimbadgen, Hunter Valley, New South Wales. A day on the green - KC and The Sunshine Band, Village People, Sister Sledge and Marcia Hines
Tickets from ticketmaster.com.au and 136 100
DIRECTIONS FROM THE VINTRY TO BIMBADGEN ESTATE
THE VINTRY
The Vintry is a stunning architecturally designed Country House, luxuriously appointed with quality furnishings and fittings but with the feel of a traditional bush retreat. A contemporary property with 4 spacious bedrooms includes 1 king size bedroom with hydrotherapy spa bath and 3 queen size bedrooms each with its own ensuite bathroom and private deck for those times when you would like some personal time to relax.

Best Deluxe Accommodation 
Hunter & Central Coast Tourism Awards Gold 2009, 2010. Silver 2007, 2008, 2011, 2012.
NSW Tourism Awards Gold 2009. Silver 2012. Finalist 2007, 2010, 2011, 2013.
Qantas Australian Tourism Awards Finalist Best Deluxe Accommodation 2009.
@THEVINTRY   #HUNTERVALLEY   #EXPERIENCEHUNTER