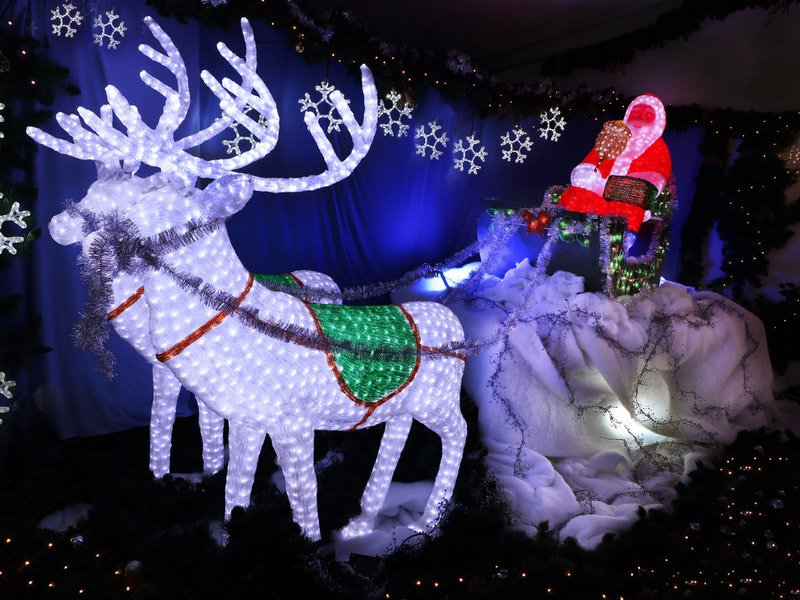 Hunter Valley Gardens Christmas Lights Spectacular are celebrating an impressive 10 years of spreading the Christmas spirit and joy to children of all ages. To mark this momentous occasion, Hunter Valley Gardens invites you to explore the Southern Hemisphere's biggest and most breathtaking display of over 2 million lights.
This much loved family event will officially open on Friday 3 November 2017 and run through to Saturday 27 January 2018.
The entire family will be able to enjoy the festive season with a delicious selection of food and beverage stalls, roaming entertainment including carollers (until Boxing Day), and nightly performances by much loved children's music group Little Scallywagz.
Gates will open at a new time of 5.30pm and will close at 10.00pm.
Hunter Valley Gardens Christmas Lights Spectacular 2017
Hunter Valley Gardens was created by Bill and Imelda Roche over a period of four years, with a dedicated team of over 40 landscape gardeners, architects, and engineers. The completion of the Gardens realised a long-held ambition to build a garden that would be enjoyed for many generations to come. A garden which would bring joy and excitement into many lives.
Find tickets to Hunter Valley Gardens Christmas Lights Spectacular
There are eight kilometres of walking paths winding through 12 hectares of gardens consisting of over 6000 trees, 600,000 shrubs and over 1 million ground cover plants, plus waterfalls, statues, murals and much more. The ten individually themed gardens showcase the artistry of gardens around the world and use both native and exotic varieties of plants.
The Garden displays remain the focal point of Hunter Valley Gardens, however to enhance the visitor experiences our calendar includes horticultural talks, festivals and signature events, such as Snow Time and our Christmas Lights Spectacular. Plus, enjoy our beautiful new rides, imported from Italy and permanently installed in our event area, adding extra appeal for the young ones during our events and in the school holidays.
Hunter Valley Gardens is a beautiful, nature based, experience for local, national and international visitors.
DIRECTIONS FROM THE VINTRY TO HUNTER VALLEY GARDENS
THE VINTRY
The Vintry is a stunning architecturally designed Country House, luxuriously appointed with the quality furnishings and fittings but with the feel of a traditional bush retreat. A contemporary property with 4 spacious bedrooms includes 1 king size bedroom with hydrotherapy spa bath and 3 queen size bedrooms each with its own ensuite bathroom and private deck for those times when you would like some personal time to relax.

Best Deluxe Accommodation 
Hunter & Central Coast Tourism Awards Gold 2009, 2010. Silver 2007, 2008, 2011, 2012.
NSW Tourism Awards Gold 2009. Silver 2012. Finalist 2007, 2010, 2011, 2013.
Qantas Australian Tourism Awards Finalist Best Deluxe Accommodation 2009.
@THEVINTRY   #HUNTERVALLEY   #EXPERIENCEHUNTER