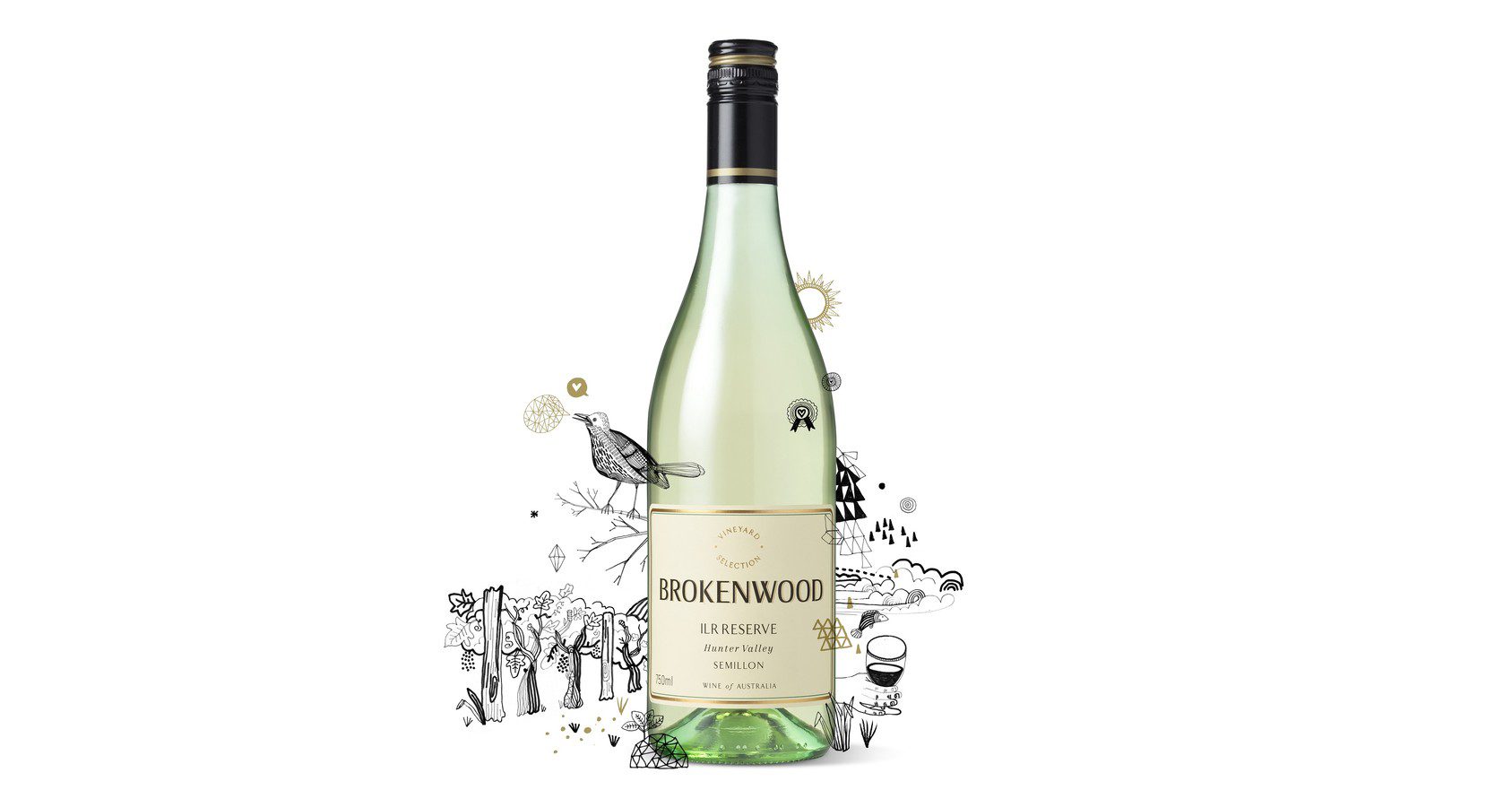 Brokenwood ILR Reserve Semillon is named after Chief Winemaker and Managing Director Iain Leslie Riggs, who joined the winery in 1982. Iain has taken Brokenwood from a small 'hobby' winery into the national and international arena, and was the driving force in Brokenwood extending the range to white wines.
The ILR Reserve Semillon is an aged white wine that receives no oak. After tasting the wine over the first three years the decision was made to release at 5 years bottle age, in other words to have some bottle development but capable of aging further. In terms of winemaking it was a case of low (and now, zero) skin contact and neutral yeast. Unfortunately it also corresponded with a decline in cork quality to the point where Brokenwood had to colour sort every bottle before release. Brokenwood moved to screw cap for the 2003 Semillon as it took an extra year to get the Georgian Green bottle for screw cap. Sporadic oxidation robbed us of up to 40% in some years and wasn't a case of some wines being slightly lesser quality than others, once oxidized, Semillon's are undrinkable.
After changing to screw cap seals, Brokenwood decided to increase the age on release to 6 years. There could be an argument that it should be 7 or even 8 years before release, but at 6 there is enough bees wax and toast flavours to illustrate that the wine is on its way for long term aging.
Brokenwood ILR Reserve Semillon has been awarded 'Best Semillon' in the James Halliday Australian Wine Companion three times, most recently with this 2011 vintage released in October 2017. 
Brokenwood ILR Reserve Semillon 2011
97 Pts / Best of the Best Semillon, James Halliday Wine Companion 2018
1 Platinum Trophy / 1 Gold Medal
At 6 years of age on release, the colour is just starting to show some development with yellow tints complimenting the green edges. Lifted almond bread and the floral notes heading to bees wax and toast. Lively lime juice, Bickford cordial characters and backed by a superb zesty acidity. The magic of Hunter Valley Semillon on display with texture, fruit weight and great length from a wine that sees no oak. Brokenwood ILR Reserve Semillon is released from the best years and this is a beauty.
Harvesting is all by hand with the fruit crushed, chilled and pressed immediately. Neutral yeasts were used for the fermentation, bottled in July. No oak and no malolactic fermentation, only stainless steel.
Enjoy now with Asian food or any seafood especially freshly shucked oysters. The 2011 Brokenwood ILR Reserve Semillon was released in October 2017 and drinking well now and will improve with further bottle age.
Winemaker Comments
Contrary to most thinking, the Hunter Valley had a perfect lead up to the 2011 vintage. The 2010 calendar year ended at just over 900mm, up on the average of 720mm, with the wettest month being November at 156mm. Then the Valley had a mild and dry December and early January 2011 followed suit with only one day above 40C on the 2nd January. Further hot weather struck around Australia Day resulting in some leaf burn. In a bizarre twist, the Hunter Valley was irrigating madly while most of Australia was under water. 
DIRECTIONS FROM THE VINTRY TO BROKENWOOD WINES
THE VINTRY
The Vintry is a stunning architecturally designed Country House, luxuriously appointed with quality furnishings and fittings but with the feel of a traditional bush retreat. A contemporary property with 4 spacious bedrooms includes 1 king size bedroom with hydrotherapy spa bath and 3 queen size bedrooms each with its own ensuite bathroom and private deck for those times when you would like some personal time to relax.

Best Deluxe Accommodation 
Hunter & Central Coast Tourism Awards Gold 2009, 2010. Silver 2007, 2008, 2011, 2012.
NSW Tourism Awards Gold 2009. Silver 2012. Finalist 2007, 2010, 2011, 2013.
Qantas Australian Tourism Awards Finalist Best Deluxe Accommodation 2009.
@THEVINTRY   #HUNTERVALLEY   #EXPERIENCEHUNTER