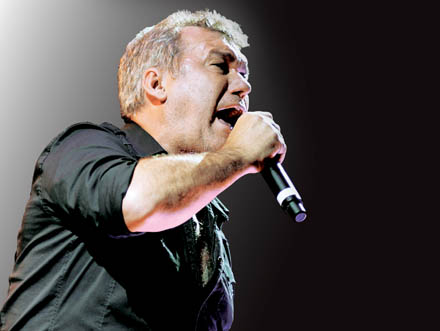 For the first time ever, the Red Hot Summer Tour will be coming to Pokolbin in the Hunter Valley and will bring an incredible line-up of the best talent in the Australian Music Industry. This year, the Hunter Valley event will be at Roche Estate on Saturday 16 April 2016.
The audience at Roche Estate can expect a day jam packed with classic hits from a who's who of Australian rock royalty; featuring Jimmy Barnes, Noiseworks, The Angels, Mark Seymour & The Undertow and The Badloves.
Jimmy Barnes As a legend both from his time fronting Cold Chisel and his top charting solo career, Barnes has toured the breadth of Australia. He has an enviable back catalogue that makes for incredible live performances with songs like Working Class Man, When Your Love Is Gone and No Second Prize. The 2016 Red Hot Summer Tour gives rock fans a chance to see Jimmy Barnes at his best and enjoy classic hits which have made him an icon in the Australian music scene.
Noiseworks are Australian rock legends and are well reputed for their incredible live shows. They are adored by music fans and critics alike. The multi-ARIA nominated band features some of the best musicians in the country and have produced a swag of incredible songs, such as Take Me Back, Love Somebody, Touch, Freedom, Miles and Miles and In My Youth. The band sold in excess of 1.2 million albums with 15 hit singles before calling a break in the early 1990s.
The Angels When it comes to great Aussie rock, it doesn't come much better than The Angels. It's been over four decades since brothers Rick and John Brewster co-founded the iconic band and have penned some of Australia's most anthemic tracks. The Angels are widely reputed for their killer live shows. Fronted now by Dave Gleeson, The Angels have had a massive couple of years, not only celebrating their 40th anniversary, but also releasing an album of all-new material. With hits like Long Line, Marseille, Be With You, After the Rain, Shadow Boxer and Mr Damage. Audiences will be in for a treat when The Angels take to the stage.
Mark Seymour When it comes to one of the country's most prolific songwriters, the name Mark Seymour is one of the first to pop to mind. Mark Seymour and the Undertow have been steadily touring the country promoting their latest release Mayday, demonstrating to audiences why this talented songsmith has endured such longevity in the Australian music scene. With a back catalogue of songs such as Throw Your Arms Around Me, Holy Grail, Football Train, Do You See What I See and When The River Runs Dry.
Saturday 16 April 2016
Roche Estate
Cnr Broke and McDonalds Road, Pokolbin NSW 2320
Gates Open: 2:00pm
Badloves: 3:30pm – 4.10pm
Mark Seymour: 4:25pm – 5.10pm
Angels: 5:30pm – 6.20pm
Noiseworks: 6:45pm – 7.45pm
Jimmy Barnes: 8:10pm – 9.30pm
Please Note: Running Times are approximate and subject to change.
Directions from The Vintry to Roche Estate

The Vintry is a stunning architecturally designed Country House, luxuriously appointed with the highest quality furnishings and fittings but with the feel of a traditional bush retreat. A contemporary property with 4 spacious bedrooms includes 1 king size bedroom with hydrotherapy spa bath and 3 queen size bedrooms each with its own ensuite bathroom and private deck for those times when you would like some personal time to relax.
Best Deluxe Accommodation 
Hunter & Central Coast Tourism Awards Gold 2009, 2010. Silver 2007, 2008, 2011, 2012.
NSW Tourism Awards Gold 2009. Silver 2012. Finalist 2007, 2010, 2011, 2013.
Qantas Australian Tourism Awards Finalist Best Deluxe Accommodation 2009.