There is something special and unique about a wedding string quartet that sets the right tone and atmosphere of your special day. A string quartet has the ability to enchant your guests with the beautiful music. A part from playing the traditional classical sound, 16 Strings has built up a reputation of being a music group that specialises in modern pop and jazz music that is frequently updated from the top 40.
---
Featuring favourite songs from around the World and generating the perfect ambience for every moment. Catering to all your Ceremony and Reception needs with an elegant Duo/Trio/4 piece set up, to a full Big Band. Working with you to create your dream wedding with memories to cherish forever.
---
Vocals, Guitar, Keytar & Cajon. Unique entertainment for your special event.
Phone: 0412 441 362 Melissa
Phone: 0433 389 656 Jamie
---
Anne Whale - Wedding Music is available throughout Newcastle and the Hunter Valley for ceremony and dinner music. Ceremony packages start from just $350 for organ/piano and vocalist. Dinner music starting from just $200 for the first hour and $130 for each subsequent hour (depending on musicians required). Call Anne now to book your beautiful wedding music.
Address: 89 Aberdare Road Cessnock NSW 2325
Phone: 02 4990 3012
Mobile: 0439 460 538
---
Bernadette Lannen believes a heartfelt occasion needs a human touch. Classically trained, and with a flair for Celtic, Bernadette's hauntingly beautiful voice will ensure the atmosphere you are after is the one created.
With over fifteen years experience as a professional soloist, Bernadette is sought after to bring sensitivity and style to any occasion. Special moments paired with fine music make for beautiful memories.
---
d'Amore - award winning, professional, easy going classical musicians. Have a special song? d'Amore Ensembles can help you make that dream come true. Ceremony, Canapés &/or Reception. d'Amore can provide String Quartets, Trios, Duos and Solos for your special day. From a traditional String Group to a more contemporary Violin and Piano duo. They also have specialty ensembles - mini orchestra trio of violin, flute and cello or for something unique, a Cello and Piano Duo.
---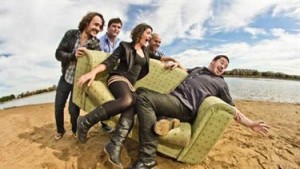 With diverse individual talents, DLove can provide classical guitar, piano, double bass, violin, trumpet and vocals for ceremony entertainment, personalised wedding march and registry signing.
Providing music for your ceremony location and also be set up at your reception ready to entertain your guests before you arrive.
---
The excitement of live entertainment makes your wedding an exquisite day you will cherish forever. EAO's award-winning team helps you choose the perfect entertainer from a wide range, identify the best timing and book in all details. They are on-call 24 hours on your wedding day in case of and entertainment emergency.
Unsure where to start with your wedding music? Choose the right entertainer, organise the details and ensure the music runs smoothly on the day with on-call support. Jazz and Party Bands, String Ensembles, DJs, Soloists, Duos and more.
EAO Entertainment understands that every couple has a unique vision of what their special day should be and offers customised entertainment ideas to suit your individual tastes, requirements and budget.
---
Funky Munky Band specialise in enticing guests on to the dance floor all night long with their continuous DJ-style dance sets full of party hits from the past and present. Their extensive repertoire also includes many chilled-out tunes that can be performed semi-acoustically during canapés, dinner, dessert and Wedding ceremonies.
---
A talented trio with an extensive repertoire and a passion for playing music.
Funk Sway can professionally cater for your budget as well as your taste in music and you can guarantee that they won't add on extra money simply because it is a wedding or there is some travel involved. This band lives for playing music and aims to have every song a classic that is appreciated by the public. Their set list shows the extensive musical choice available and makes it possible for them to tailor the show to suit any crowd. They are able to learn specific songs for the big event and provide acoustic accompaniment for dinner or romantic settings. Funk Sway is a professional outfit with flexibility to meet the client's needs.
---
Live professional entertainment plays such an important role in the success of any event, especially a wedding reception. It is probably number 3 on the list, behind great friends and family, and a great venue.
The Funky Do Da's are the Hunter Valley's premier wedding band providing an entertainment package second to none. With over 600 wedding performances, The Funky Do Da's are the number one recommendation of major Hunter valley vineyard function centres.
During dinner, create the perfect relaxed mood featuring the smooth silky sounds of the saxophone. Jazz, swing, latin, instrumental pop and some cool jazzy/soul vocal tunes set the vibe.
After dinner, launch into the dance music which features a large cross section of popular music and
styles. Retro, Latin, Funk, Disco, 60's rock'n'roll, and commercial hits.
---
Great entertainment is an essential part of any wedding and wedding reception. Whether you are looking for smooth lounge music during canapaes and dinner, or the funkiest dance tracks for you and your guests to dance the night away, Gen-R-8 can supply quality, experienced acts that will work with you in creating the perfect atmosphere for your special day.
---
Hunter Valley Wedding Entertainment specialises in providing the complete musical package for your wedding day. Mick Fetch and Acoostic Moose can provide music for your ceremony, canapés, during dinner, and of course, for when it is time to hit the dance floor. You are encouraged to develop a strong relationship direct with your musicians (not just a voice at an agency) and work with them in the lead up to your wedding day to tailor the music to suit you and your guests. Communication with the bride and groom is the main focus to ensure the music for your wedding reflects your personaity.
---
Juicy Fruit with all its professional talent and vibe, produces a hot and funky dance sound with loads of class. The bubbly vivacious voice of Lauren, unique harmonies by Theresa, smooth feel of the rhythm section and to top it off Kim Pink and Craig Lembke's sensuous sax playing (full brass section available on request).
With all these professional and well known musicians we can play from background dinner music, a bit of jazz, thru to  classics 70's, 80's, 90's up to current Pop, Funky, Dance and top 40 hits.
---
KeyString
Phone: 0403 455 563 (Rebecca)
Website:www.keystring.com.au
---
Matt Semmens - Vocals/Guitar
Matt Semmens is a Newcastle based performer specialising in weddings and functions. He has become a well know performer in the Newcastle music scene and from 2001 he has performed at well over 400 weddings and functions. Matt currently performs as lead vocalist and guitarist in Newcastle based Funky Munky Band and Transit Duo.
0425 387 270
www.mattsemmens.com
---
Nancy Hoskings - Vocalist
Phone: 02 4984 6019
Mobile: 0414 397 579
Website:www.weddingvocalist.com.au
---
Tim Pringle
Mobile: 0419 212 620
Website:www.timpringle.com.au
If you are looking for a professional, flexible, and fun without hassles entertainment option for your special day, then contact Tim now and ask for his free DEMO DVD including both his solo and duo acts. More Dynamic Than A DJ  More Affordable Than A Band
---
Transit Duo
Transit Duo's performance of original takes of contemporary hits are sure to be something your guests will be talking about for time to come. Mixing peculiar flavours, such as AC/DC with a reggae groove, will keep you on edge while enjoying their fresh and fun perspective of pop hits. Transit Duo will put your needs first. No matter what the situation.
0439 873 809 www.transitduo.com
---
TROY
Mobile: 0439 828 889
Email: TROY@QUAAN.COM.AU
Website:WWW.QUAAN.COM.AU
HAVE ONE OF AUSTRALIA'S FINEST MALE SOLO ARTISTS PERFORM AT YOUR FUNCTION! Performing songs from Jason Mraz, Kings Of Leon, Michael Buble, Crowded House, John Butler Trio, Jon Stevens and hundreds more. All your music needs individually designed for your special day.
---
Two Play Strings
Phone: 02 4943 2181
Mobile: 0400 788 229
Website:www.twoplaystrings.com.au
---
Valley DJ
Phone: 02 4933 1702
Fax: 02 4915 5389
Email: admin@valleydj.com.au
Website:www.valleydj.com.au
Valley Djs now provides entertainment to hundreds of weddings in the Hunter Valley every year and is recommended by many of the leading wedding reception and corporate venues throughout the region.
---
XYDJ
Phone: 1300 855 144
Website:www.xydj.com.au
@THEVINTRY   #HUNTERVALLEY   #EXPERIENCEHUNTER